"Remember your roots and live life smiling"—Dr. Fernandez
Born in sunny California and raised in central New Jersey, Dr. Celest Fernandez-Vives cannot deny that while she absolutely loves the west coast, she is a Jersey girl at heart.
Dr. Fernandez, as her patients know her, grew up in Hamilton Square, NJ and always had an inclination to practice medicine. But while attending Steinert High School, she got her first part-time job at a local dental practice where she began working as a sterilization technician and was exposed to every dental specialty, eventually assisting in various dental procedures. It was there that she realized her dream of becoming an orthodontist.
After graduating high school at the top of her class, Dr. Fernandez left her hometown to attend college at Boston University in Massachusetts, where she balanced school, working part-time as a phlebotomist, and making time for her favorite hobby: dancing and performing in a hip-hop dance group. Dr. Fernandez earned her Bachelor of Arts in biology with a minor concentration in French and also studied abroad in Ecuador to attend the Universidad de San Francisco de Quito in the division of conservation biology.
She later moved to New York to attend Columbia University School of Dental Medicine. Her area of concentration was oral maxillofacial surgery and she was published in the Columbia Dental Review for her case report on the management of Complex Regional Pain Syndrome Type I patient during third molar extractions. Her love of city life continued to thrive while spending her free time enjoying all things great about NYC: food, sightseeing, nightlife, and falling in love.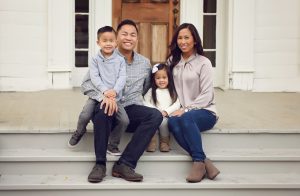 Dr. Fernandez spent an additional two years of specialized post-graduate training in orthodontics and maxillofacial orthopedics at Howard University. She was mentored by the Paffenbarger Research Center, part of American Dental Association Foundation, and completed her dissertation on assessing the effects of amorphous calcium phosphate on decalcification. The end of her residency marked the beginning of when all her dreams were about to come true. Hard to believe that she started as a sterilization tech and twelve years later she was officially an orthodontist.
Dr. Fernandez married her dental school sweetheart and fellow orthodontist, Dr. Jason Vives. While they love city life, they do not like city-life space (or lack thereof). Dr. Fernandez and her husband reside in Monroe, NJ where they have ample yard space for their adorable two kids, Jace and Juliana, to expend their unending energy. Jace says he "wants to be an orthodontist" when he grows up, although it may have something to do with some coaxing from Grandma Susan, also a long-time Hamilton Square resident. Both Jace and Juliana enjoy spontaneous dance parties where they bust a move to their favorite tunes playing on the radio or Sonos. They also love going to New York City and traveling to sunny beach destinations. They truly are their parents' kids.
If home is where the heart is, then Dr. Fernandez is exactly where she belongs. Robbinsville Orthodontics is located in and around an area where Dr. Fernandez has deep roots both professionally and personally. She is excited to, once again, be part of the community that supported her dreams from the start and believes that there is nothing more fulfilling than being able to transform a patient's life and improve their self-confidence and self-esteem by simply changing their smile.